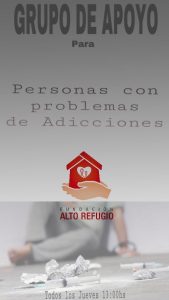 Hand in hand with God Alto Refugio begins a new challenge
The existing need in the surroundings of people struggling with some type of substance dependence motivates the opening of a new department consisting of a support group for people with addiction problems.
Looking back at this past year at Alto Refugio we see the obstacles that came up. Nevertheless, with God's help, all of them could be overcome.
God showed himself and let us feel him in many ways. One of them was through each person who supported this work through prayer or any other type of offered help. We are confident that God will reward each one according to his will.
Prayer requests – Thanking God:
For finishing one more year of service to people living with HIV.
For each employee serving at the foundation
For each person or entity that supports Alto Refugio.